Places to get your wedding photoshoot with cherry blossoms in Korea
The spring season is one of the best time to get your photoshoot done in Korea. If you're there at the right time (typically around early April to early May), you will be able to catch the cherry blossom seasons. It's a beautiful sight. Many locals and tourists would visit the local Spring Flower Festivals to enjoy the glorious blossoming flowers.
UPDATE: See the 2018 Korea Cherry Blossom Forecast.
So don't be surprise to find yourself with a huge crowd. Fret not, we have prepared for you 10 spots that are equally beautiful for your wedding photography sessions without the nasty crowds.
1. Seonyudo Park (선유도 공원)
Seonyudo Park is an ecological park, located on an island in the Hangang River. Widely known to be the filming location for K-dramas like Iris and Boys Over Flowers, it is a great spot to shoot for cherry blossoms too.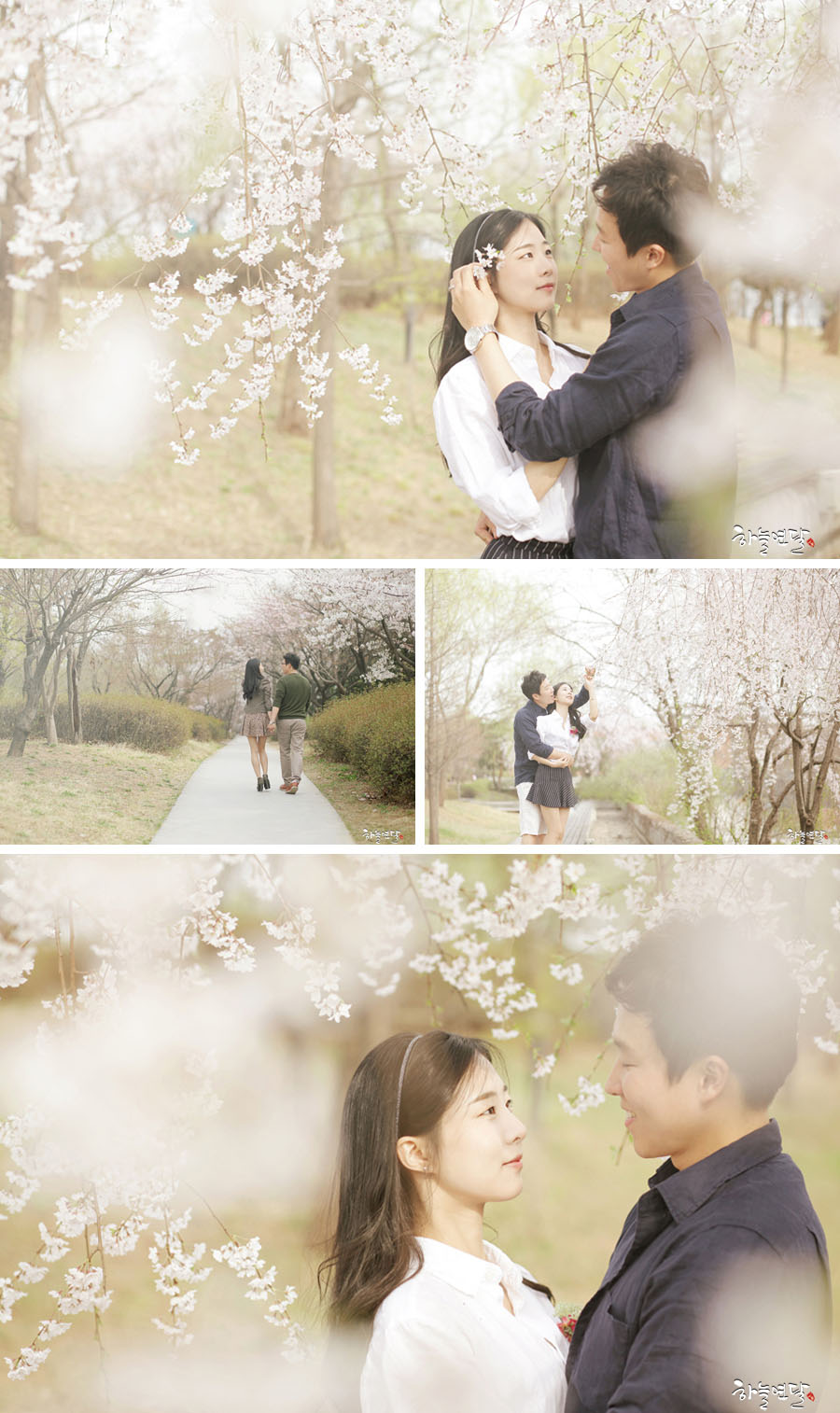 See full album here: Casual couple photoshoot session at Seonyudo Park in Spring

2. Dream Forest (북서울 꿈의 숲)
There is a Cherry Blossom path in spring that gives you the perfect backdrop for your wedding photoshoot. Besides this seasonal attraction, Dream Forest also features a beautiful pond and a botanical garden.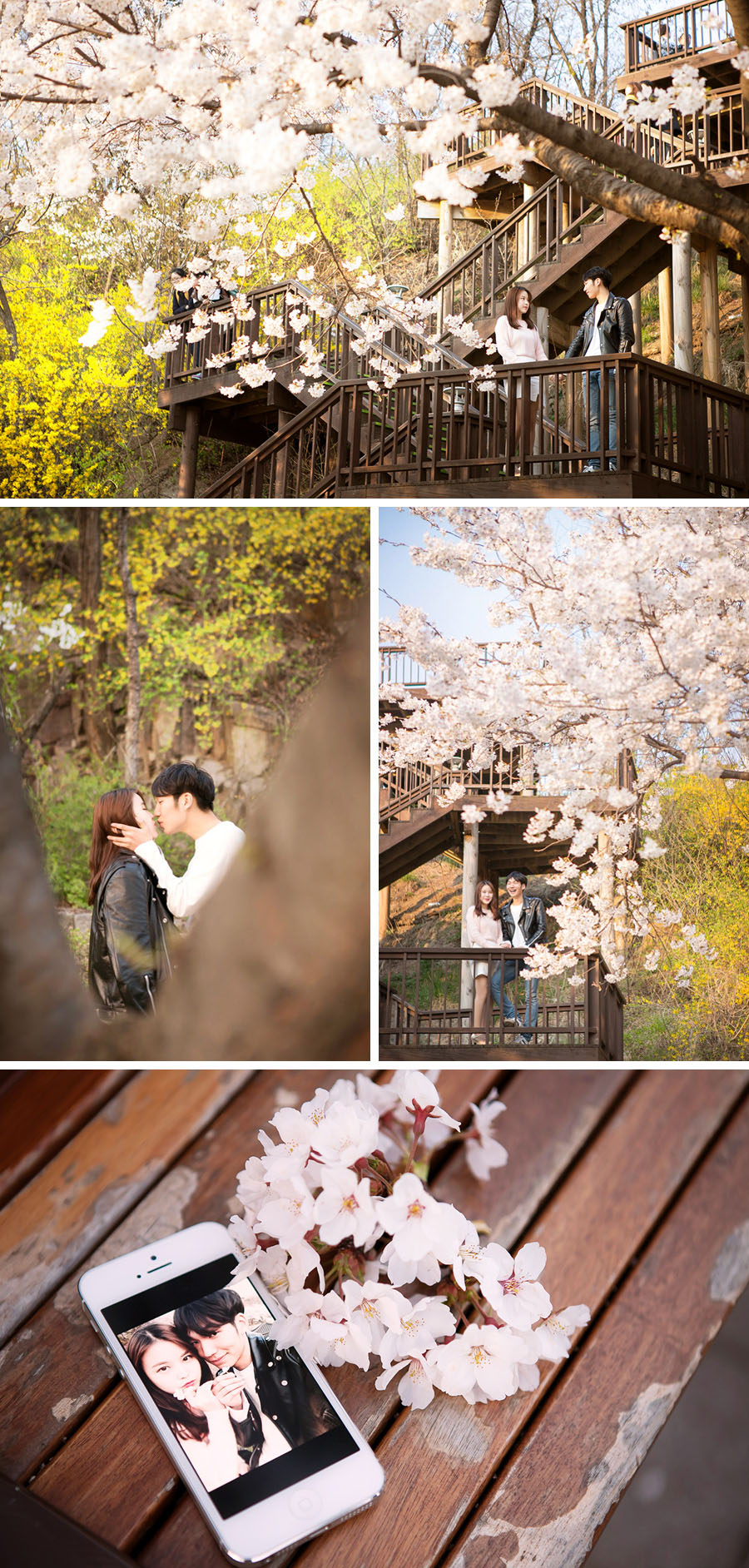 See full album: Sweet Couple Photo Shoot at Dream Forest, Korea
3. Olympic Park (올림픽공원)
A popular spot for wedding photoshoot, the Olympic Park is one of Seoul's largest and most popular park.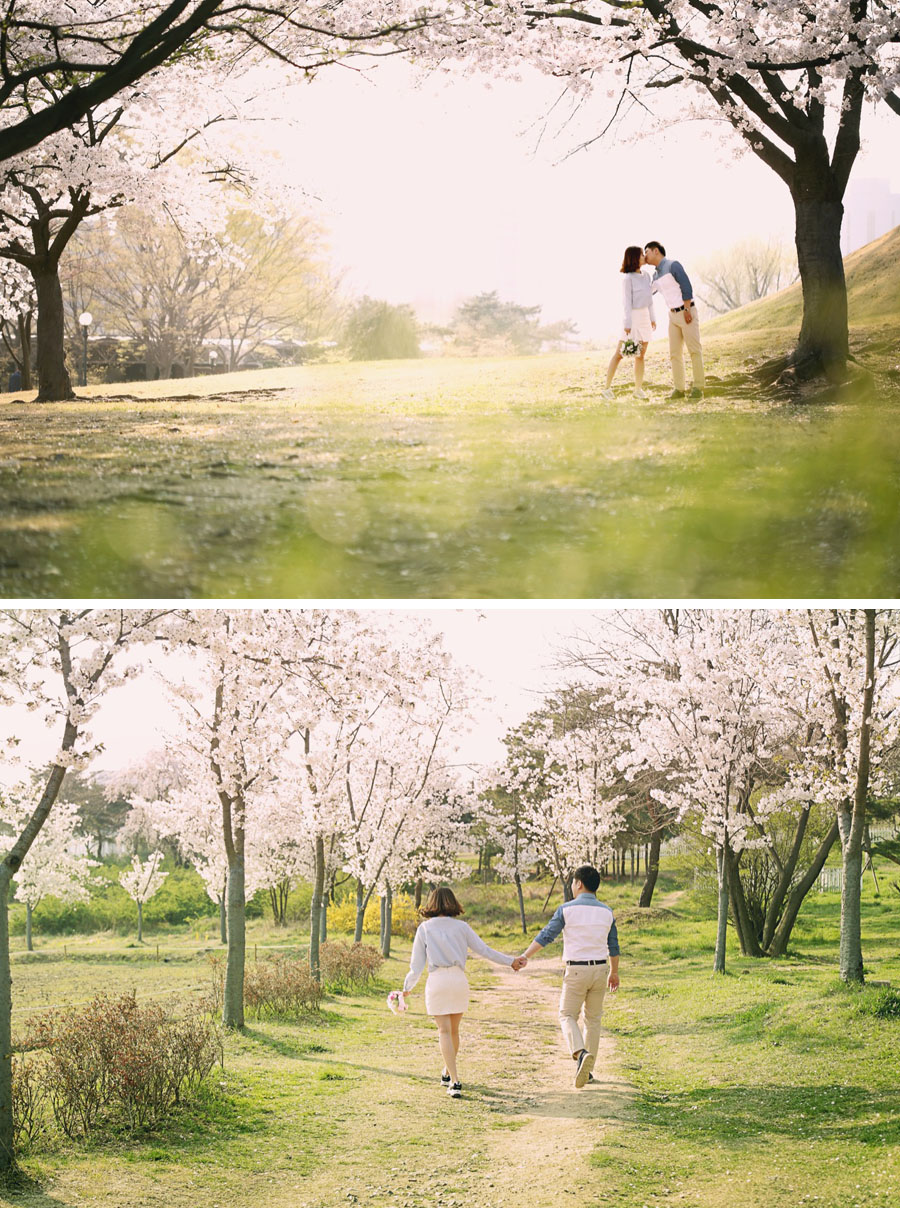 See full album: Casual Pre-wedding Photography Session at Olympic Park
4. Seokchon Lake (석촌호수공원)
Featuring a beautiful lake with cherry blossom trees lined up along the bank, many young couples come to this spot to enjoy the cherry blossoms. Lotte World is just nearby, probably a good place to visit after your wedding photoshoot.
5. Hapjeong (합정) Cafe Street
This street is filled with vintage cafes and many other food establishments. It's a very nice for couples to do a photoshoot in a cafe. In spring, you can enjoy your coffee date surrounded by cherry blossom trees.
See also: Photos of Cafe Dating Photoshoot in Korea
6. Namsan Mountain (남산)
A stone throw away from the famous N Seoul Tower. Have a relaxing walk in the mountains and make your way towards N Seoul Tower and the Locks of Love on top of N Plaza. This location is MADE for couples! After a couple photoshoot, you can enjoy the scenic night view of Seoul from the tower.
7. Seoul Grand Park (서울대공원)
Seoul Grand Park consists of multiple parts, a zoo and amusement park, rose gardens and many more. It's offers a great spot for you to enjoy the cherry blossoms and take photos at the different themed areas inside the park.
8. Seoul Forest (서울숲)
Another big park (not a forest) inside the city of Seoul, made up of 5 different parks. You can rent a bicycle there and have a date snap! Date snaps are how Koreans say couple photoshoots. There is a deer park inside, where you can get up close with the deers and feed them. Besides, it is conveniently located near the Seoul Forest subway station. Easy to travel to!
9. Gyeongbokgung Palace (경복궁)
The largest of the five palaces, the Northern Palace is probably the most beautiful too! Especially in spring, the cherry blossoms plus the majestic architecture of the palace, makes it very ideal spot for your wedding photoshoot.
See also: Korean Pre-wedding Photoshoot with Traditional Hanbok and House
Yeouido Park (여의도 공원)
If you're too busy to visit any of the spots and you are running out of time, you can always fall back on Yeouido Park. Located in the central park of Seoul, Yeouido Park, is probably the most popular place to view cherry blossoms in the city. The Yeouido Spring Flower Festival takes place in the park. The iconic Yunjungo street is lined up with over 1000 cherry trees, it is a lovely sight. Because of the festival's popularity and accessibility of the location, it attracts a big crowd every year. It is definitely not a suitable location for your photoshoot with cherry blossoms. That's why we place it in the last spot.
Did we miss out any other awesome spots to have cherry blossoms in Korea for your photoshoot? Let us know in the comment below. We also have some tips on how to dress up for the perfect cherry blossom pictures!
Looking for a Korean wedding photoshoot? Head on over to OneThreeOneFour to view our Korean wedding photographers.