Can't decide which photo taking spot to choose for your wedding shoot in Bali? The Island of Gods simply have too many picturesque locations that are great for your engagement, pre wedding and wedding photos. There are mountains in the north, rice fields in central Bali, and various type of beach all around the south. Naturally, couples are spoilt for choice!
Fret not, we've compiled 10 amazing Bali Pre Wedding Photo Locations
1. Tamblingan Lake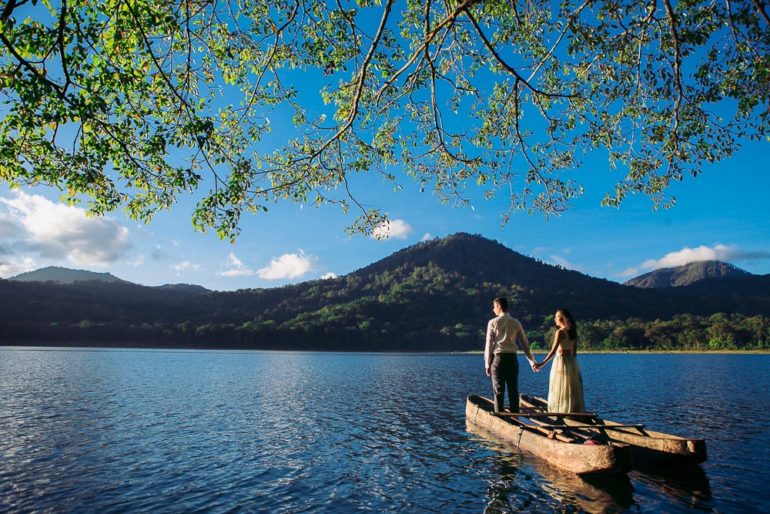 Tamblingan Lake, known locally as Danau Tamblingan, is a beautiful spot to have your pre wedding/engagement shoot. It's a quiet spot compared to it's more touristy neighbor, Beratan Lake. Couples can rent a small boat, where you can set out to a wooden platform in the lake. Many couples choose to hit Lake Tamblingan at dawn, as the first spot in their photo shoot day, to capture the beauty of sunrise and morning fog.
2. Mount Batur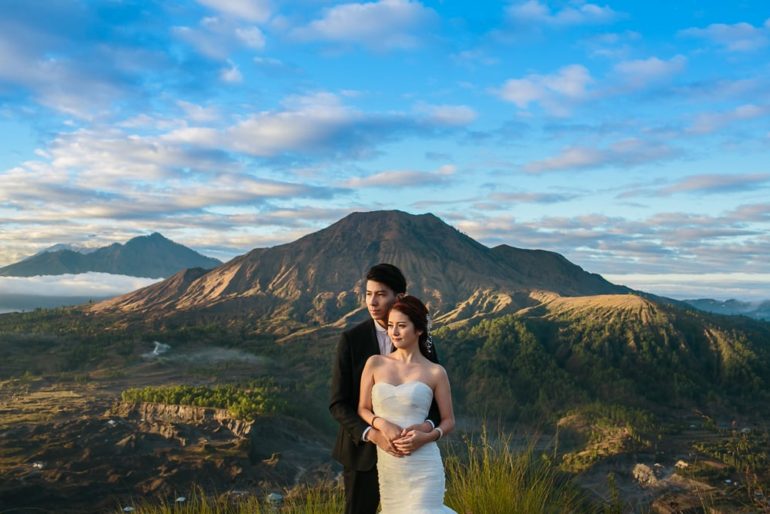 Mount Batur (Gunung Batur) is Bali's active volcano, situated in the area of Kintamani. It offers a unique backdrop for couples with a mixture of volcanic rocks, grassfields and Batur Lake. There is no need to hike up the mountain, the scenic spots are located on the lowlands, at the foot of the mountain. Mount Batur is typically a 2-hour drive from the city, Denpasar.
3. Tukad Unda Dam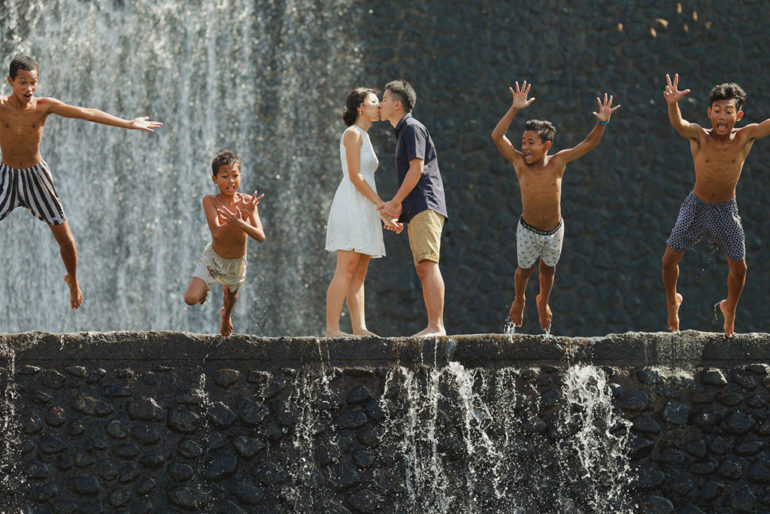 Another interest location in Bali, is the Tukad Unda Dam. This is conveniently located near the city. With boy often playing at the dam, it adds a unique touch to your photos.
4. Tanah Lot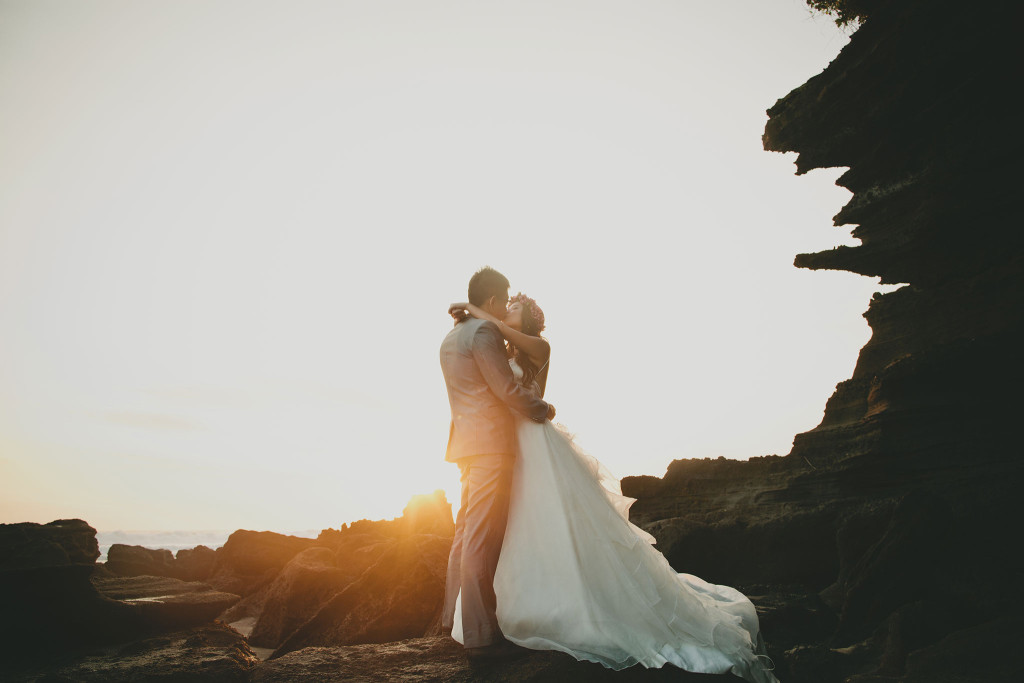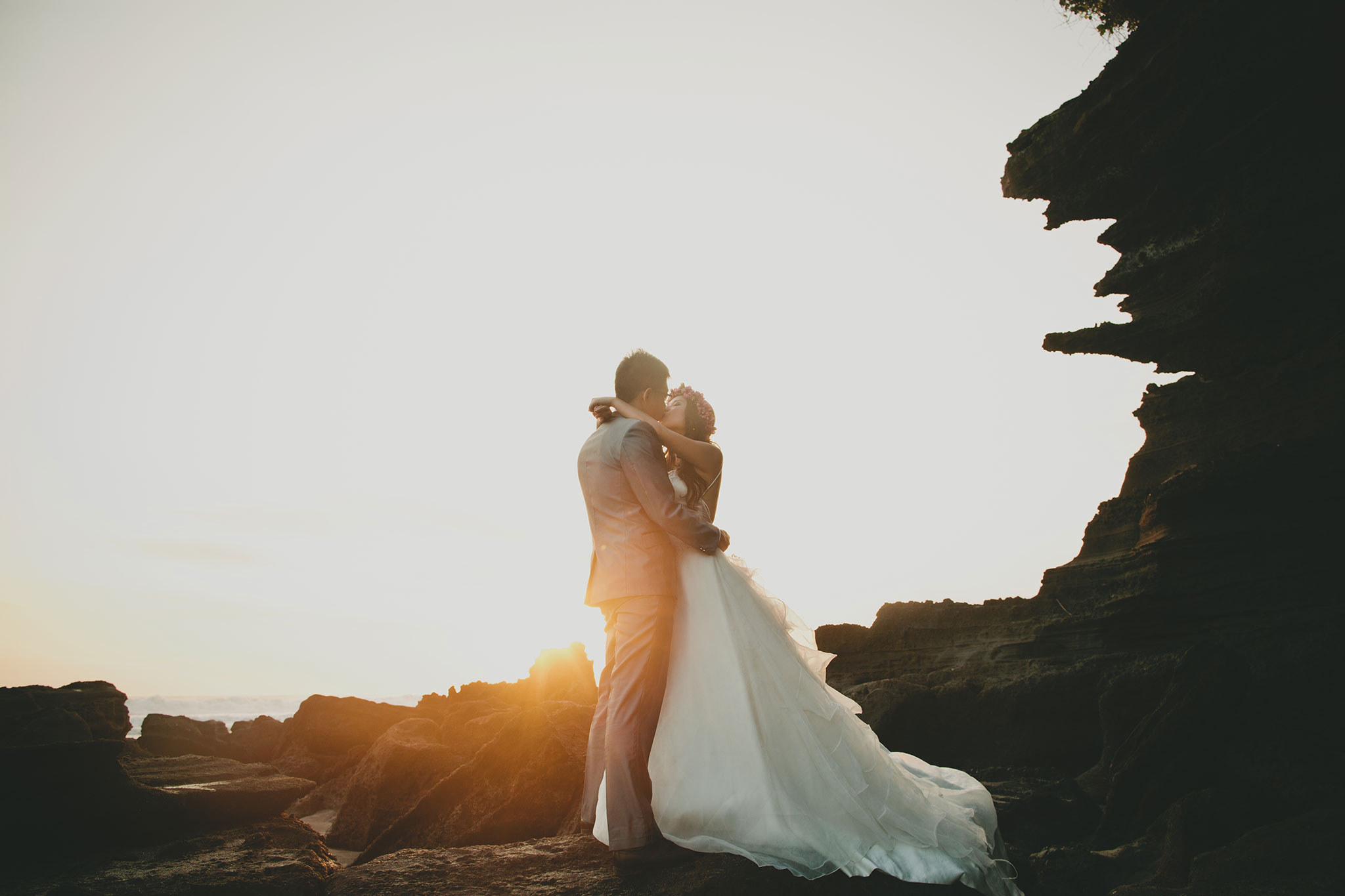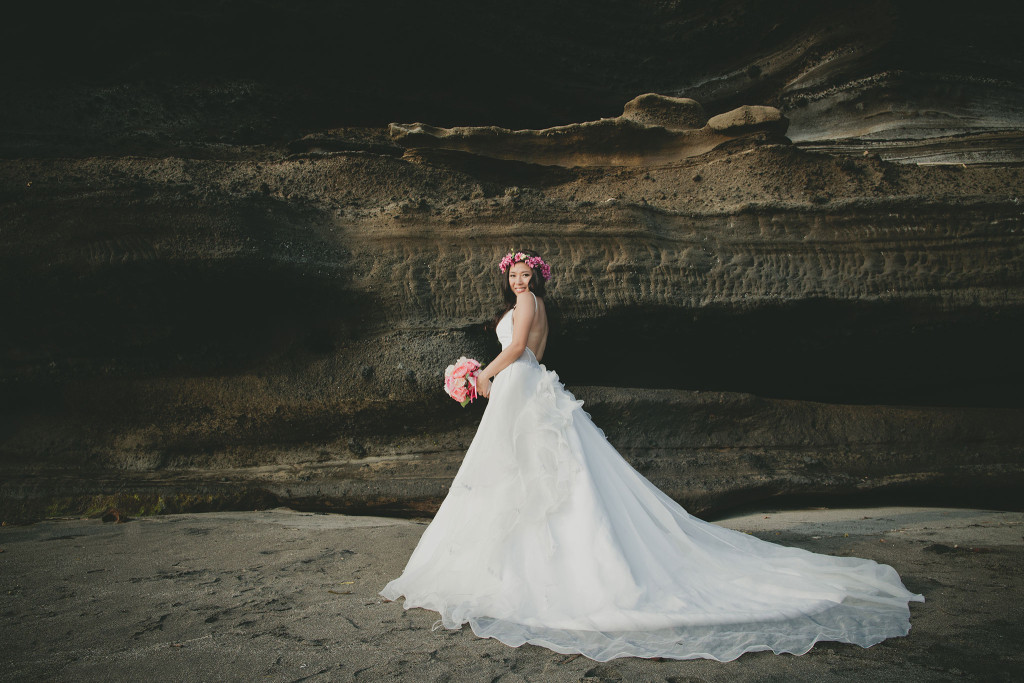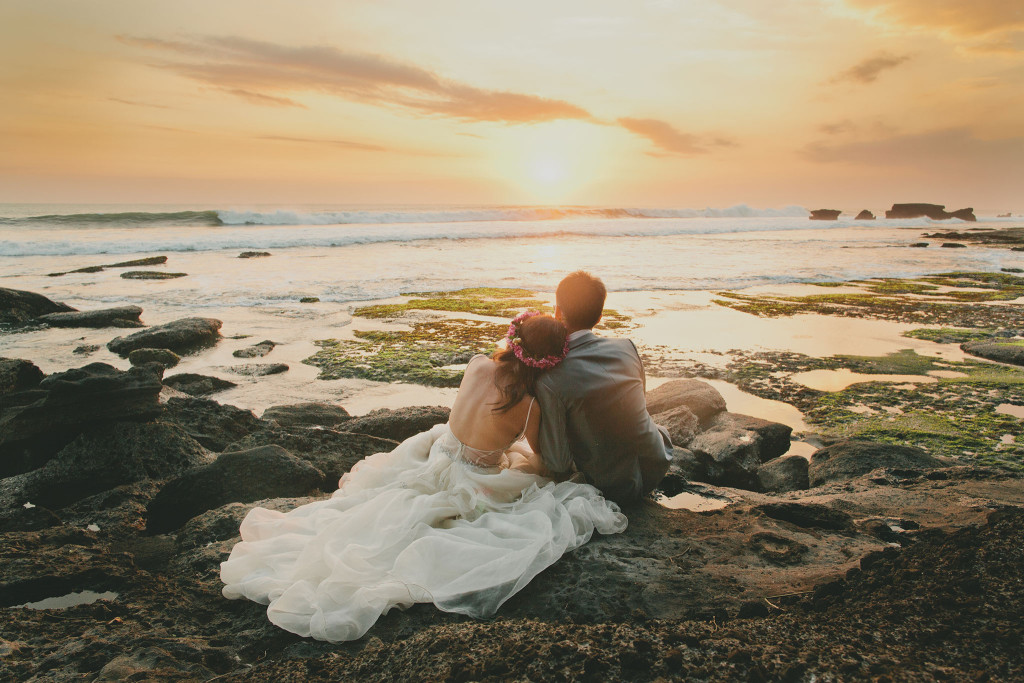 As one of the best photo spots in Bali, this iconic Hindu temple is built on top of a rock formation. Tanah Lot is perfect for pre wedding photoshoot. Because it is situated in the west side of Bali, about an hour's drive from Seminyak, it is great to hit this place during sunset hours, say 5pm. Do check with your photographer, the tide for the day, you'll miss a lot if the tide is high.
5. Tegalalang Rice Field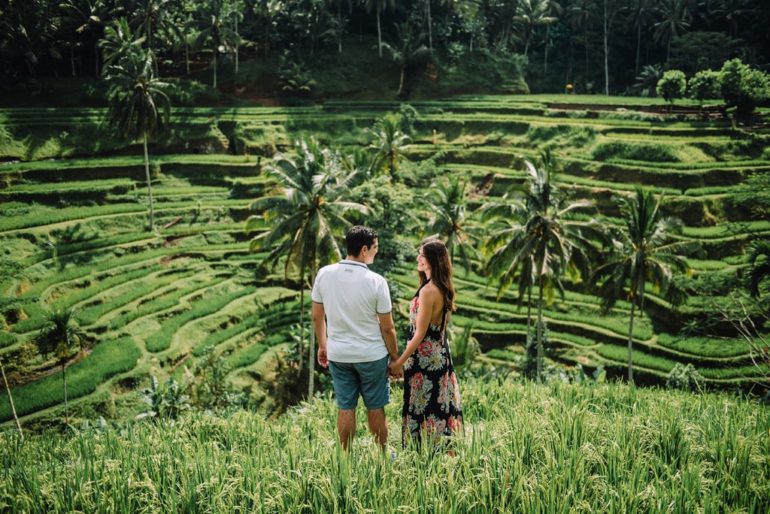 Rice paddy fields are another icon of Bali. Many cafes in Ubud have a rice field behind where you can shoot your pre wedding shots without travelling deep into the country. Best part is you can order another drink to cool yourself off after you're done. By the way, be sure to check with your photographer which stage the rice paddy field is in; harvested or just planted.
6. Nyani Beach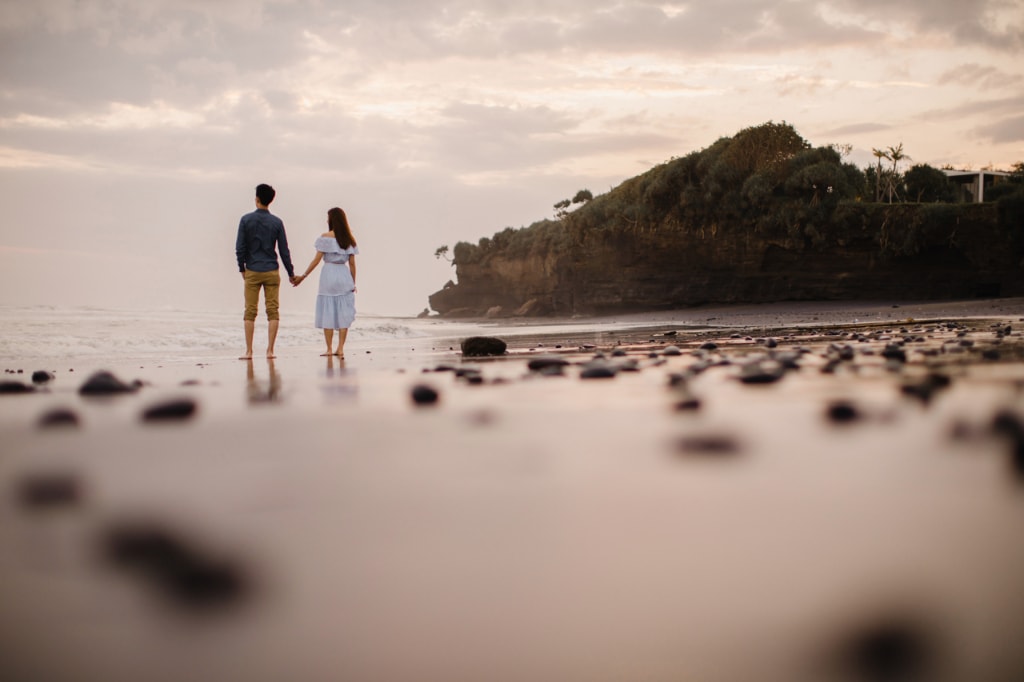 This quiet beach is truly a hidden gem. This black-sand beach is known for its beautiful sunset views too.
See also: An Unforgettable First Wedding Anniversary Celebration in Bali's Nyani Beach
7. Tegal Wangi Beach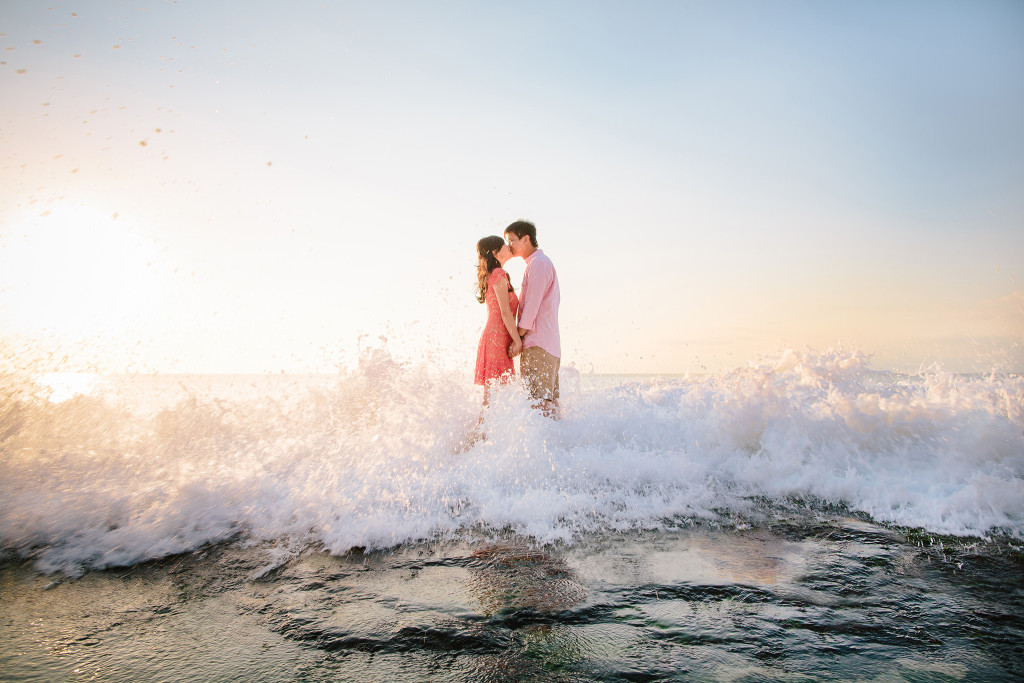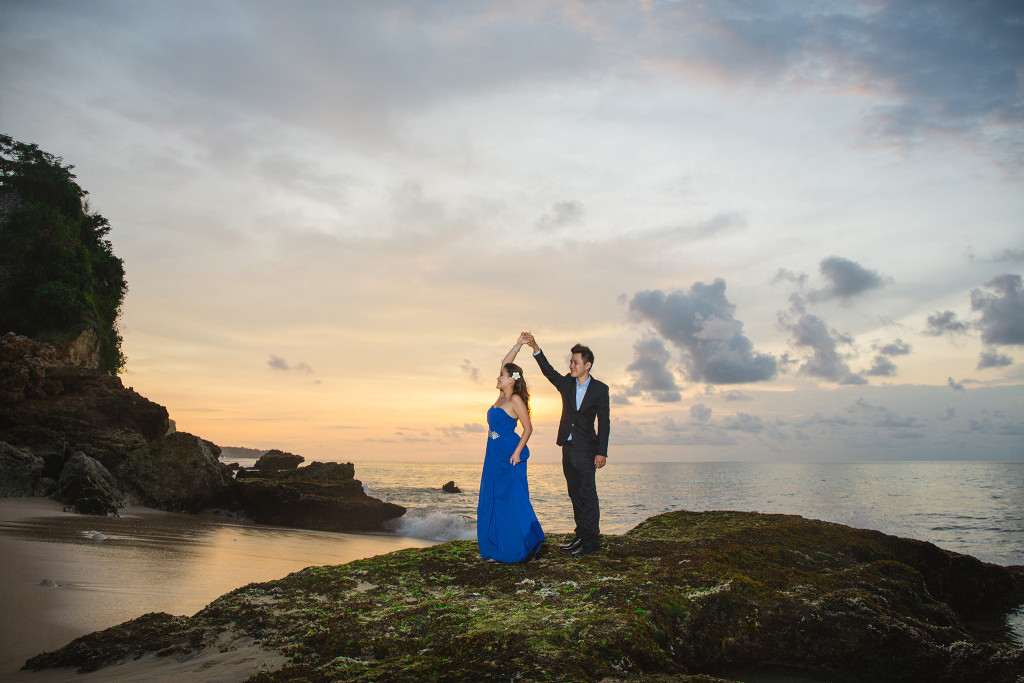 Tegal Wangi beach features a mixture of fine white sand and rocky outcrops.It takes no more than an hour to drive from Kuta. This is a great location because you can have a scenic beach view from the cliff. And unlike Kuta or Legian beach, Tegal Wangi is quiet and clean. This beach is close to the Ayana Resort and Spa, where Rock Bar is situated. It just sounds like a great place to end your wedding shoot day,
8. Echo Beach
Unlike the beaches in the soft of Bali, the beaches in Canggu, Echo, Mengening beach features black volcanic sand. It makes your photos more interesting, especially how the white gown can pop out from the black sand. I prefer it over the white sands of Jimbaran/Tegal Wangi/Seminyak. There are many rock outcrops in these beaches too. And unlike the beach in Legian, Kuta
9. Tegenungan Waterfall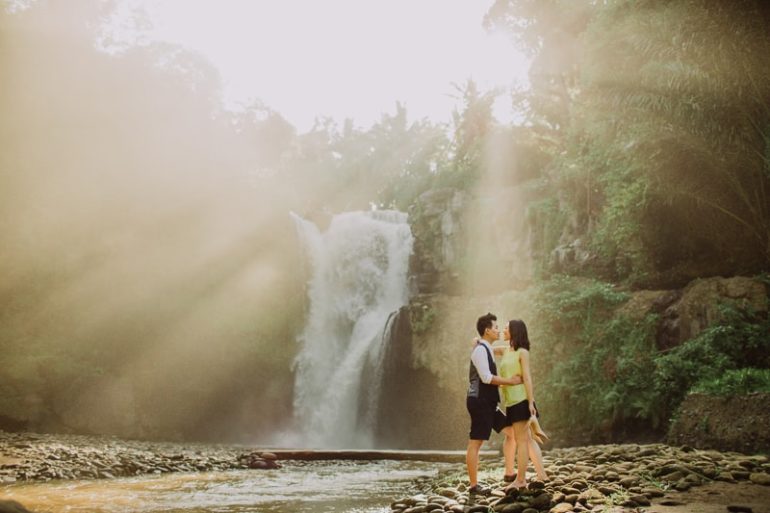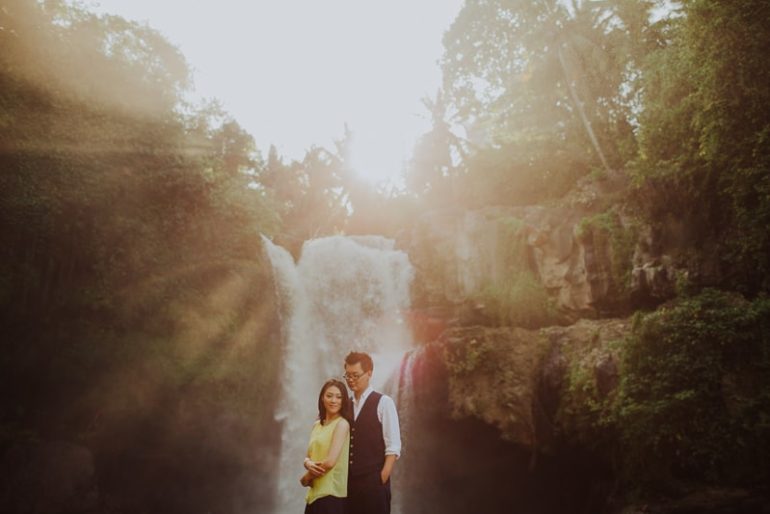 This is an excellent for couples looking to take some casual shots for their pre wedding shoot. You should hit this place in the afternoon where there are plenty of natural light in the area. Plus, it would be a great place for you to cool off in a typical hot Bali afternoon. Tegenungan waterfall is in Ubud.
10. Mangrove Forest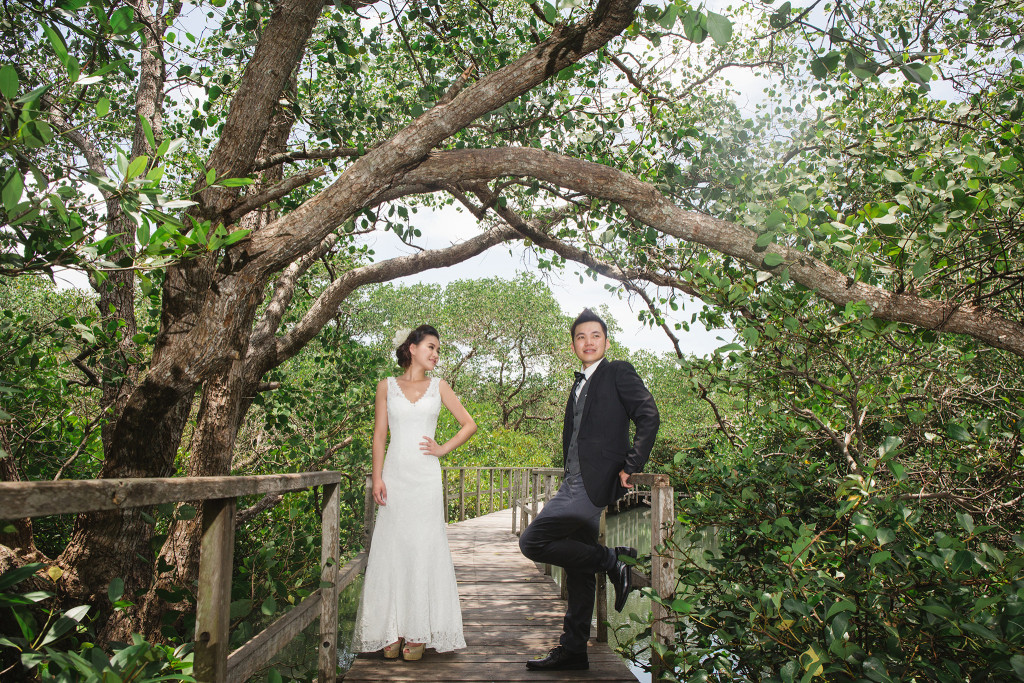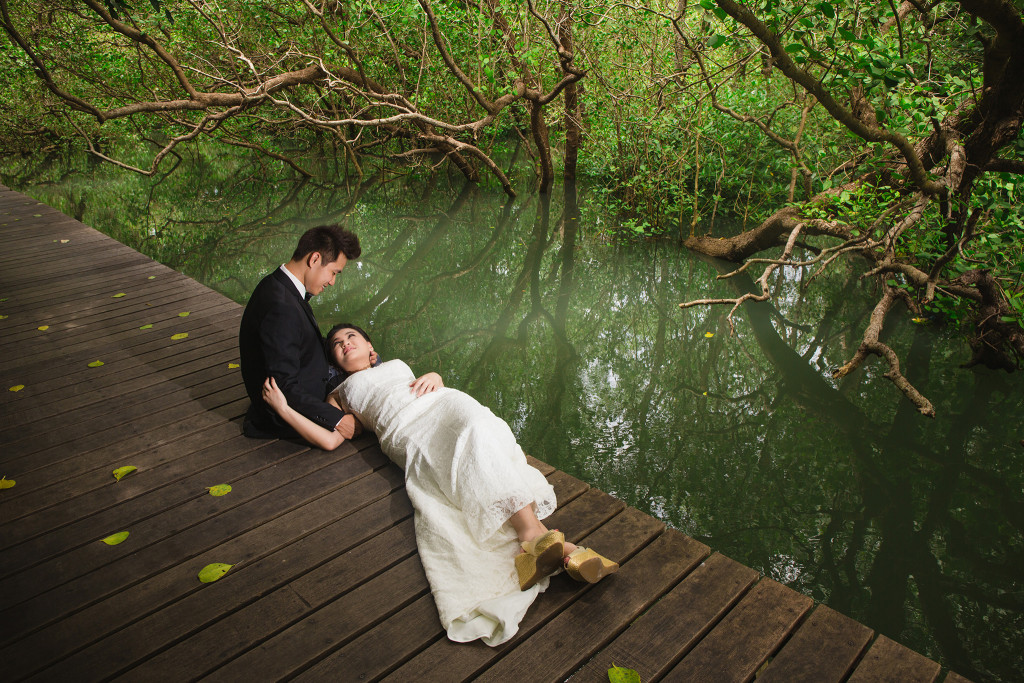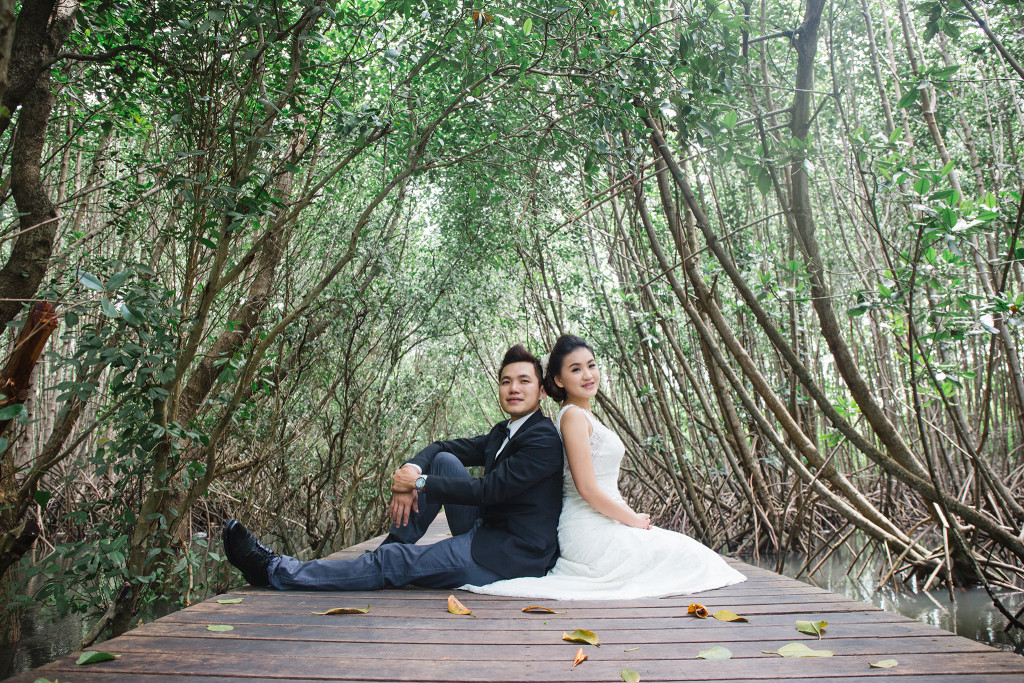 Capture your love story in this forest conservation. There is a wooden tower and a long wooden broad-walk in this forest trail that are great for your photo shoot. As the mangrove forest is in the east of Bali, it is best to arrive in the morning. You can pack it right after a sunrise shoot at Sanur Beach.
Plan your Bali wedding Photoshoot
For couples looking beyond the main island of Bali, discover these 7 stunning Bali pre-wedding locations off the beaten path.
Now that you know 10 pre-wedding locations in Bali, you can start to plan your photoshoot and choose one of our Bali wedding photographer. Our team would be able to advise which locations are suitable based on your preferences.